Thomas Inch

Born Scarborough
27th December 1881

Died Surrey
12th December 1963
aged 81
Thomas Inch was a major figure in the history of British Bodybuilding. His lifts exceeded those of Sandow, his mail order Bodybuilding courses and equipment sales exceeded all others at their peak - it is reported that he had over 70 people working on courses and sales and over 50 typists working 6 days a week on mail order business.
He is also credited with being the first to introduce plate barbells and dumbells.
As with other famous strongmen Thomas Inch also 'played the Halls'. The picture below showing one of his speciality feats.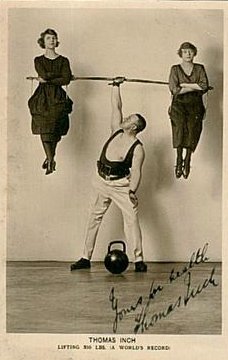 And dressed as a Roman Gladiator: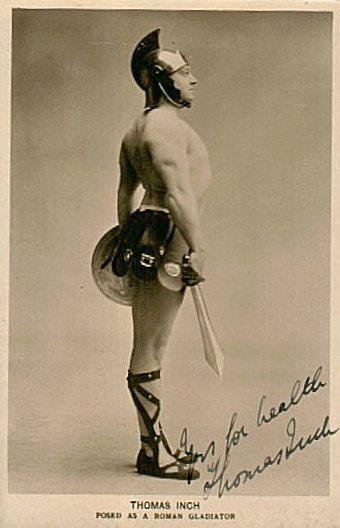 He wrote many books and articles. Listed below are articles by and about him taken from Health & Strength of 1904, together with full reproductions of some of his books.
In 1954, when he was 73, W.A. Pullum wrote an article about him in 'Bodybuilder' Magazine entitled 'Ambitions of the Scarborough Hercules'
There are also a range of courses and exercises both using resistance isometrics and weight / exercise equipment listed below.
---
Ambitions of the Scarborough Hercules

Aston's Victories over Max Sick and Inch

Contributed by

The Inch Leverage Exercises

extracted from
A Manual of Physical Training
(1947)
see below

Will & Nerve Force in Relation to Physical Culture
Date unknown

Contributed by Gordon Anderson

'Something New' Physical Culture Up-to-Date
Date unknown

Explanatory notes for a series of Self Resistance Exercises

Contributed by Gordon Anderson

A Manual of Physical Training
1947

Contributed by John G. McEneany

Spalding's Book on Boxing & Physical Culture by Thomas Inch - Late 40s/Early 50s

Only the section on Physical Culture (Wall Exerciser, Dumb-bell & Barbell) is reproduced

Contributed by Peter Luckin
---
---
Website & Contents © 2000 - 2009 & Gil Waldron
Please read this disclaimer